Embrace your natural leadership and increase your impact
"True leadership can't be enforced but radiates from inside" – Angela
This personal leadership program teaches you to rely (more) on your inner wisdom and to act from self-confidence. You experience more peace and balance in thinking, feeling and acting. Your impact (on the behavior of others) is significantly enhanced as you radiate a natural leadership.
What do successful people have in common? They do who they are.. They coincide with themselves. There is no difference between: 'who am I', 'what do I want' and 'what do I have to offer'. They are not obstructed by their chattering brain that tends to portray reality just a bit less rosy. In addition to their 'common sense' they are guided by their inner wisdom
that goes beyond knowledge. They dare to listen to their feelings and intuition in addition to their ratio and in this way make use of all the knowledge and information they carry with them.
You may have proven to yourself and others that you have a lot to offer and realize that much is being asked from you…. In most cases you can meet these demands. But sometimes you experience that working hard just is not enough. And you wish you had more persuasiveness and inner wisdom at your disposal,so everything would just run a little smoother. That you radiate a natural leadership with which you can inspire and convince others effortlessly. Or that you are able to listen better and more often to the inner voice that gives you exactly the right answers. Sounds familiar?
Would you like to navigate more on your intuition and act from self-confidence and natural leadership?
Would you like to increase your impact without having to 'work hard' to do so? Do you want to respond more from peace, balance and self-confidence in both your personal and professional life?
Do you want to use more of your intuition, your inner wisdom, which is many times wiser and smarter than your mental brain? Would you like to use your natural leadership more effectively, enabling you to inspire and convince others more easily?
Then this Personal Leadership Program is really for you.
This leadership program will give you deep insight into yourself and your unique core and strength.
You learn to listen to your intuition and simultaneously set your energy field in motion so that you also work with yourself on a deeper level. You will eventually notice that you radiate more power and the impact on others is increased.
"The personal leadership program has given me profound insights into my leadership qualities and restrictive beliefs. The insights are extremely valuable. Every session I got to know myself more and more. I now realize which course/route I want to take in live and how to move forward. Angela knows how to get to the core every time and helps to understand it through beautiful metaphors."
Mary – Programme Manager
"Angela is a professional coach, who provides you with useful tools that you can apply both privately and professionally. When you want to develop yourself on a personal level she is able to ask you the right questions. Through proper reflection she will lead you to your goals. And that's what she did with me by making me recognize my challenges and pitfalls, among other things. Moreover, she is a great and beautiful person."
Ellis – Account Director
"This program with Angela has touched me deeply. Angela, unlike many other coaches, allowed me to experience things by myself … People around me have already given me compliments and said that I come across as 'so powerful and confident'. Thanks to Angela I sincerely and with certainty dare to say what my added value is in relation to other people and organizations!"
Eline
"What a pleasure to be able to return to you for these sessions. Every time I really notice that I have gotten closer to myself. My colleagues also experience a clear positive change in me. I am really much more in my power. I'm already looking forward to a follow-up program."
Nora
"Angela is extremely good at her job. She is incisive and works with structured chaos. The big picture is known, but how someone gets there can be a winding road. I myself have followed a winding road. Very special to experience that at the end all the pieces of the puzzle literally fall together. Very nice to experience that!"
Theo
"What I loved is that Angela can listen to you objectively and will not pass any judgment. This made me comfortable to say anything that came to mind, which in turn benefited the outcome. I also think writing your life story is a great way to reflect on the kind of life you have had. In this way you can already recognize events that have had an impact on your life. And if you don't see that yourself, Angela sees it all. I look back on a very beautiful journey and will have something to benefit from throughout my life."
Stefan
For whom, what, how and when?
For whom: This Personal Leadership Program is suitable for anyone who wants to develop his or her intuition and natural, personal leadership. Some experience with intuitive and/or personal development is a pre but not required. This program is also suitable for former participants of the Soul Purpose programme (Personal BrandKey), who want to continue to develop themselves.
Duration of the program: 3-6 months, with 7 sessions of approximately 3.5 hours each.
Certificate: After completing the program, a TwinQ certificate will be awarded as proof of participation.
Leadership program
Since this is an individual course, the program will be completely tailored to you.
Investment: the invenstment for participating in this individual program is €2555 (excluding 21% VAT for Dutch business participants).
What is the outcome of the Personal Leadership Program?
You have deep insight into yourself, you know where your strengths lie and how to use them optimally.
You have learned to listen (better) to your intuition so you can trust your own wisdom more and more.
You notice that you radiate more self-confidence and strength and that your impact on others has increased.
You experience more peace, balance and self-confidence in both your personal and professional life.
You radiate a natural leadership with which you can effortlessly inspire and persuade others.
With this Personal Leadership Program you learn to listen (better) to all the information you bear within and you experience the impact and power of your own energy system
The Personal Leadership Program is an intensive program consisting of 7 sessions of 3.5 hours each. During these sessions we use both the conscious and subconscious knowledge and information that you bear within. After all, a human being is much more than just his mental brain.
Various scientific studies have shown that we do things unconsciously for more than 85%, such as making choices or performing actions. That's why I address your ratio, emotion and intuition:
Ratio: the ability to think, understand, explain and put things into words
Emotion: the voice of your needs and desires and the key to setting change in motion
Intuition: the voice of your inner perception, knowing and wisdom, a voice that goes beyond knowledge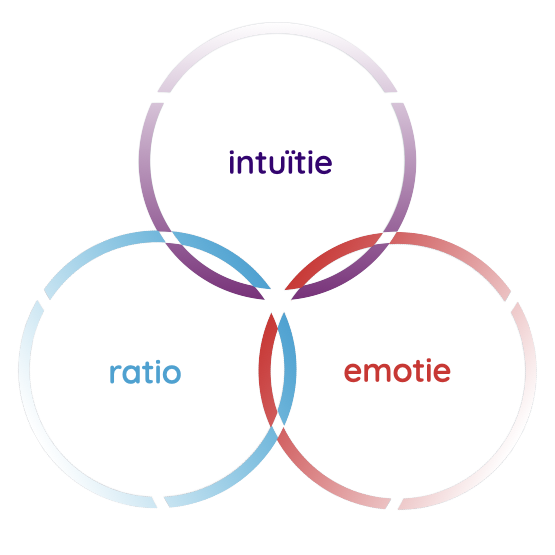 We do this by means of guided meditations/visualizations, metaphor sessions, various exercises and conversations. You learn to listen to your intuition and at the same time set your energy field in motion. So that you also start working with yourself on a deeper level. You will eventually notice that you radiate more strength and the impact on others is increased . During the sessions I make use of my more than 15 years of experience in energy/aura reading and healing so I can also support you energeticallyin your process.
The content of the program will be tailored as much as possible to your personal wishes and needs. In addition, the following themes are likely to be covered:
Where do I stand now and where do I want to go?
What is my relationship to myself and others?
What are my masks and most obstructive beliefs and how can I best deal with them?
What is my core and strength?
What keeps me from living in abundance and how can I overcome this?
What is my greatest fear and desire and how can I make them work together?
To get the program off with a flying start, it is recommended to start the first session with a personal reading. During this 'conversation with yourself' you'll get a deeper insight into yourself and the key themes that are interesting for you in this phase of life. These insights can be a great starting point for the next sessions.
CRKBO registered
AngelTalks is a brand of TwinQ. And TwinQ is certified in accordance with the quality code for educational institutions for short professional education. Short-term vocational education is understood to mean all training aimed at enabling people to function (better) in a (future) job.
Due to its registration in the CRKBO register, TwinQ has a VAT exemption for all personal development sessions, workshops and trainings. In addition, most companies have a budget for training and/or personal development. The advantage of this registration is that clients can rest assured that TwinQ meets the quality requirements for short professional education. More information can be found on the website of CRKBO